History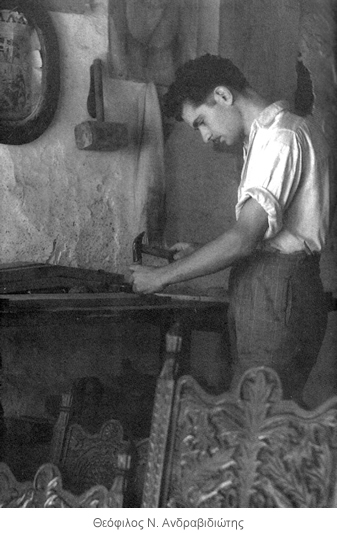 With the art of woodcarving first dealt Adravidiotis Nicholas (1896-1954), who relying solely on his natural talent for dealing with this art, he managed to become a leading teacher of woodcarving. He created unique works of ecclesiastical art, often praised by Greek and European critics.
Worthy descendants and successors of the great artist are Nicholas' sons, Theophilus and John, who have studied at the side of their father, a great successor of the Byzantine tradition.
Theophilus was born in Zakynthos in 1930 and from a very early age began to take drawing and wood carving lessons by his father, together with his brother John. Later he came in Athens, where a few years later came and settled the whole family.
With their wood carvings Theophilus and John has graced numerous temples in Greece and abroad, such as the Temple and other woodwork in the church of St Constantine in Hydra, the Monastery of St. Panteleimon in Penteli, and Almighty church in Zante.
Their works of art are also located in Pretoria, Port Elizabeth and Cape Town, Africa, Madrid, London, Korea, the Church of the World Council of Churches in Geneva, in the United States of America and in Australia.
The two brothers have worked for approximately thirty-six Temples, eight restorations of Temples and for one hundred and fifty other churches, woodcut ecclesiastical items (shrines, despotic thrones, lecterns, pews, candle stands, jewelry cases, pulpits, etc.) in Greece and abroad, Zurich, Seoul, London, Cape Town, Johannesburg, Pretoria, Finland, Madrid, Hanover, Bethesda - U.S., Pontiac Michigan, Minnesota - Minneapolis. It's worth mentioning their cooperation with public institutions and the Ministry of Culture specifically, with the Historical Archive and the Ecclesiastical Museum of Hydra, the Holy Fathers' Museum of Corfu and the Room of paintings in Tinos.
Today the great family tradition in woodcarving is continued by Theophilus' children; Eleftherios and John, who walking the path of their father and grandfather have undertaken the creative and faithful reproduction of the great Byzantine Art and the in Third Millennium.
It is worth noting that the last two restored and filled the wood carved Temples, and other wood carvings of Benaki Museum, in Athens, wood carvings in the Holy Pilgrimage of Evaggelistria in Tinos, temple and other wood carvings in the Holy Church of God's Wisdom in Basel, Switzerland, St. Demetrios Church in Zurich, Holy Trinity Monastery in Lidula Finland, the church of St. Luke Hong Kong, China.
Also the office of the President of the Holy Synod of the Greek Church, the Bishopric of the Holy Archdiocese of Athens and numerous projects in many churches allover Greece.
They are members of the Professional and Technical Chamber of Greece, and John is also member of the Temple Construction Committee of the Greek Church.

HONORS & AWARDS
Gold Medal September - October 1930 Thessaloniki International Fair
Gold Medal 13 - 28 September 1931 Thessaloniki International Fair
Degree 5 - 26 September 1937 Thessaloniki International Fair
Silver Medal 11 September - 2 October 1938Thessaloniki International Fair
Honorary Plaque July 1989 Dowling College Mediterranean New York
NEWSPAPER & BOOK ARTICLES RELATED TO THE ANDRAVIDIOTI WOODCARVING WORKSHOP
Newspaper [Helliniko Aima] May 28th 1948
Newspaper [Apogeymatini] August 20th 1953
Newspaper [Vradini] August 23rd 1954
Newspaper [To Vima] November 27th 1955
Newspaper [Herald Report of Africa] August 10th 1968
Newspaper [Vradini] May 13th 1995
Newspaper [I Neoi Keroi] October 9th 1988
Newspaper [I Neoi Keroi] October 16th 1988
Newspaper [Keskiviikona of Finland] January 16th 2000
Contemporary Personalities of Greece [Elliniki Ethniki Grammi]
Icon Art [Apostoliki Diakonia tis Ekklisias Tis Ellados] 2003
Greek Woodcarvers [Smili] 1996
Contemporary Construction [Ch.G. Kornaros] 1961
Scrapbook
Greek Guide of Fine Arts [Hellenic Press] 1975
Churches of Creek Emigrants [Karakotsoglou] 2005